Professor Derek McCormack
Professor of Cultural Geography
Academic Profile
Derek McCormack joined the School of Geography and the Environment in October 2006. Derek has a BA (Hons, first class) in Geography and Sociology from the National University of Ireland, Maynooth; an MSc in Geography from Virginia Tech; and a PhD in Geography from the University of Bristol. Prior to taking up a post at Oxford Derek was a lecturer at the Department of Geography at the University of Southampton. Derek has received the Gwenda Hurst Memorial Medal from the Association of Geography Teachers of Ireland, the J.A.K Graham Award from the Geographical Society of Ireland, and The Phyllis Mary Morris Scholarship from the School of Geographical Sciences at the University of Bristol. He has received a Vice-Chancellor's Teaching Award (at Southampton) and an Oxford University Teaching Award for innovation and excellence in undergraduate teaching. In 2015 he was awarded a British Academy Mid-Career Fellowship.
Derek is a human geographer whose work is informed by a wide-ranging engagement with philosophy and social theory and is characterized by a commitment to creative approaches to methodology and writing. His research has made significant contributions to the development of a number of important conceptual agendas within the discipline, particularly around the relations between non-representational theory, affect, and materiality. Working with a number of colleagues within and beyond geography, these contributions have been developed through engagements with a series of different empirical domains, including performance, urban life, cinema and geopolitics, and more recently, air and atmosphere.
Derek is a member of the Technological Natures Research Cluster.
Current Research
The Experimental Politics of Atmospheric Assemblages - 2015-2016 British Academy Mid-Career Fellowship Project.
This project develops Derek's ongoing interest in the relation between the meteorological and affective senses of atmosphere. It aims to explore how this double sense of the atmospheric becomes the focus of different experimental practices across various domains of expertise, including art, science, geopolitics and popular culture. A central aim of the project is the completion of a single authored monograph, The Allure of the Atmospheric. In addition, as part of his fellowship, Derek is completing a number of papers that develop an engagement with the relation between atmospheres, media, and sensing. The project draws upon a combination of archival research, site visits, and critical analysis.
Selected Research Projects
The emotional geographies of Arctic exploration: The 1897 Andrée Expedition


British Academy, 2005-2008.

The Geopolitics of Atmospheric Experiments


Oxford University Fell Fund, 2014-2015.

The Experimental Politics of Atmospheric Assemblages


British Academy Mid-Career Fellowship 2015-2016.
Teaching and Supervision
Undergraduate Teaching
Derek lectures on cultural geography topics for the Preliminary Examination and about issues of modernity, consumption, and materiality for the SPS FHS Paper. He teaches an undergraduate option course (Cultural Spaces) which draws heavily upon his ongoing research into questions of affective experience.
Postgraduate Teaching
Derek convenes and teaches on the 'Research Design' module on the MSc in Nature, Society and Environmental Governance. Derek welcomes expressions of interest from suitably qualified individuals who would like to pursue doctoral level research in the following areas: non-representational theories; geographies of affect and emotion; geographies of movement and mobility, particularly in relation to the affective and embodied experience of movement; social theories and philosophies of space and place; and cultural geographies of artistic practice and performance.
Current Graduate Research Students
| | |
| --- | --- |
| Luis Iturra | Exploring urban inequality through unveiling uneven atmospheres in everyday mobility practices |
| Josefina Jaureguiberry Mondion | Affective experiences in radical housing alternatives: The cases of Barcelona, Berlin and Rome |
Recent Graduate Research Students (since 2006)
Rhian Scott


Completed DPhil in 2020

The contemporary warehouse studio: an extension of artist and urban landscape

Andrew Dwyer


Completed DPhil in 2019

Malware Ecologies: A Politics of Cybersecurity

Matthew Shepherd


Completed DPhil in 2019

Geothermal Urbanism: Making the elemental explicit in Reykjavík

Lisa Choi


Completed DPhil in 2017

Mobilities and socio-spatialities in the Aerotropolis: Dallas-Fort Worth and New Songdo City

Sasha Engelmann


Completed DPhil in 2017

The cosmological aesthetics of Tomás Saraceno's atmospheric experiments

Becky Catarelli


Completed DPhil in 2016

Rising seas, surprising storms: temporalities of climate and catastrophe in Vermont, New York and the Florida Keys
BOOK
Refrains for Moving Bodies: Experience and experiment in affective spaces
Duke University Press, Durham NC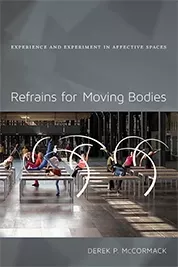 BOOK
Key Concepts in Human Geography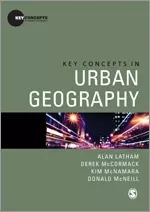 McCormack, D. (2015) in Moving Sites: Investigating Site-Specific Dance Performance, pp. 79–94.